Happy National Watermelon Day! To help celebrate this quintessential summer fruit's special day, we have compiled five delectable watermelon salad recipes that you can try today. So get in on the festivities and celebrate the refreshing, juicy fruit that is the watermelon!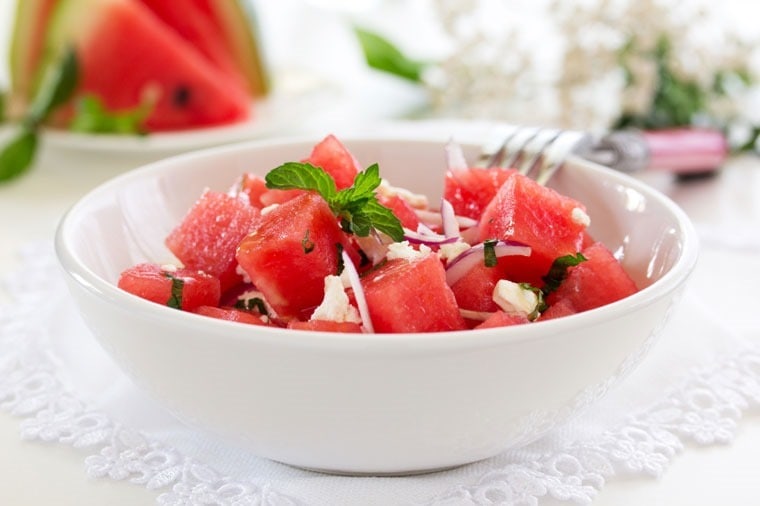 WATERMELON WITH LEMON, MINT AND FETA SALAD: The fresh flavors from the lemon and watermelon compliment the mint beautifully. Add in the salty element from the feta cheese and you have yourself a salad that's a complex bite, yet with simple preparation. Get the recipe HERE .
ASIAN CITRUS WATERMELON SALAD: Let's take the flavor profile all the way to the far east with elements of sesame oil, fish sauce and rice wine vinegar being the feature stars in this yummy Asian citrus watermelon salad. Check out the recipe HERE.
CUCUMBER AND WATERMELON SALAD: This salad just might be the most refreshing of the bunch. To help alleviate the summer heat, grab the recipe HERE.
WATERMELON SALAD WITH TOMATOES, GOAT CHEESE AND BASIL: What a vibrant salad to share with all your loved ones at the summer cookouts this season! Try out the recipe HERE.
WATERMELON MOJITO SALAD: This is a dish with fresh, dynamic flavors that combats the warm weather pefrectly. All the components of this dish make for one salad that is packed with bright flavors. Learn to make this scrumptious salad HERE.